Podcast: Play in new window | Download
Subscribe: Google Podcasts | Spotify | RSS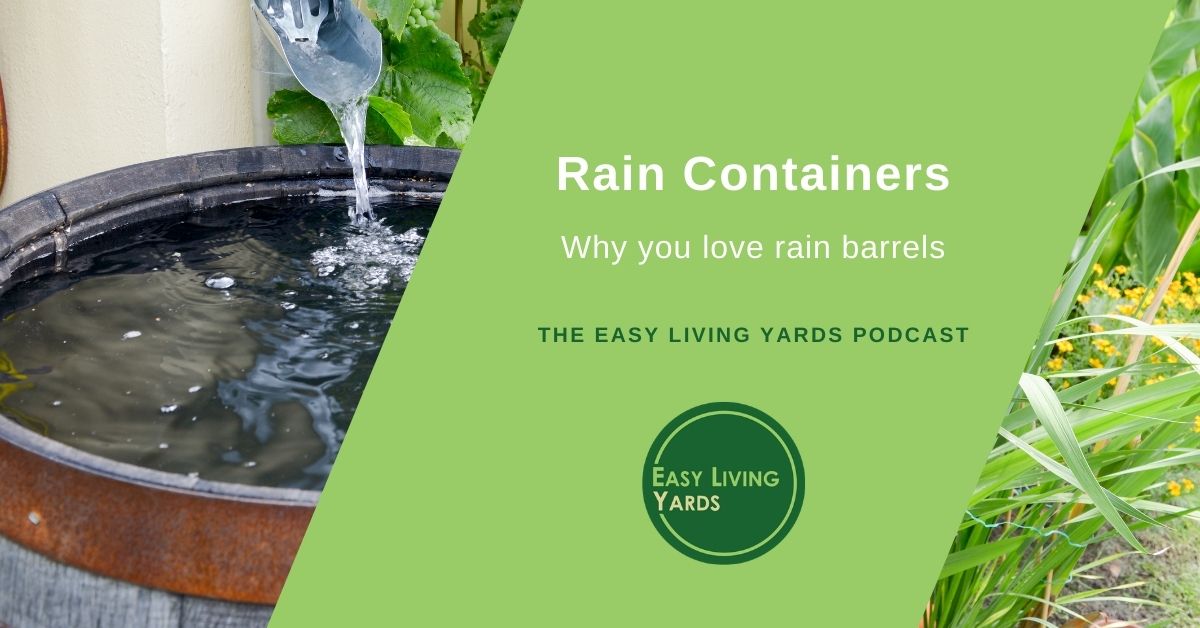 Why you already love rain containers but just didn't know it yet…
Show Notes
Why you should consider rain containers
Whether you call them rain barrels, rain containers, or rain catchment systems, capturing the rain provides healthy water for your landscape and helps reduce our burden on stressed stormwater systems.  Win-win-win!  Here's how to do your part in helping reduce your burden on our water systems, as simple or intricate as you like!
What's your rain barrel style?  Listen to learn more…
Why are rain containers awesome?
Healthy water for your garden and yard
Low cost water storage
Reduces runoff – help our stressed planet!
Reduces energy and demand on our water supply
Types of rain containers
Easy downspout rain barrels – quick and easy, great way to get started
Larger rain continers – more options, more water storage, some are pretty

Plastic modular systems
IBC Totes (Intermediate bulk containers) make great rain containers – get a food grade one!

(pssst we use these for our rain system – 550 gallons of storage fills in less than one inch of rain!)

Steel and concrete rain container systems

Expert & pro style, can look very beautiful
Key Factors to consider with rain containers
Make sure to empty your rain containers in freezing weather or you will be sad :(
Avoid "Dead legs" in your rain container system

These are places where water sits stagnant and doesn't flow. Explained better in the podcast.

First flush diversion

This is a very helpful rain container addition because it reduces debris, bird poop, etc from getting into your continer.
A slightly more advanced element, but very helpful to improve quality and prevent stagnant (aka smelly) water in your rain containers
Rainwater downspout filters are also a great option, but only capture the larger debris.

Keep your rain containers covered and screened

Keeps out rodents and mosquitos
Keeps rain containers safe from curious children and sad accidents.
Local Soil and Water Conservation Districts (Just search for that term + your county)

If your county's district does not have any resources, you can check a nearby county that's more populated

Free rain container calculator tool (at bottom of page)
Easy Living yards can help you create your beautiful yard, no matter your budget or location.